Een schitterend gratis thema voor MKB, ZZP'ers en Bloggers. Helemaal van deze tijd en mooi op maat te maken.

Enkele WordPress Thema Twenty Twenty specs :
Op een 1440 pixels laptop scherm is de kolom breedte 580 px. "Wide" blok breedte gaat tot 1200 px en de "Full" blok vult het gehele scherm.
Er is een 'widget' ruimte in de voeter met een kolom breedte van 1032 px.
De aanbevolen 'Featured Image' afmeting is 2000 px breed bij 1200 px hoog.
Dit artikel is niet uitsluitend bedoeld om de WP loftrompet te spelen, maar vooral ook om onder de aandacht te brengen dat websites, eens in de zoveel tijd vernieuwing behoeven. Voorkom een verouderde website, blijf bij, ook op technisch gebied. Geef bezoekers een goede ervaring.

Website fouten voorkomen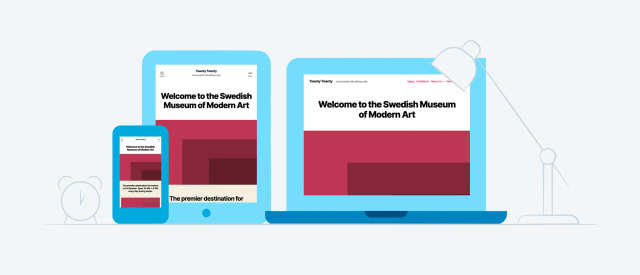 Website Re-design and Branding.
Exploring WordPress Theme 2020 in depth. Made a Child Theme and activated it on a website that is due for renewal and rebranding. I am impressed by Theme TwentyTwenty and find it of premium quality.
"Our default theme for 2020 is designed to take full advantage of the flexibility of the block (Gutenberg) editor".
Indeed, it is.

Code is Poetry
Yet it is sooo challenging to read through the hefty website coding. How drastic things changed since my HLTM (2001) and Webdesign (2002) courses. In those days it was about simple text design, tables, borders and few graphical elements.
These days we talk about Webdesign 3.0 that is about responsive grids, mobile first, speed, creativity and user experience. It is the domain of dedicated professional design/develop masters and true web explorers/engineers.
Like https://css-tricks.com/snippets/css/complete-guide-grid/
https://static.nicepage.com/ForumAttachments/296/18296/designers-vs-webmasters.jpg?version=
Meanwhile I'm happy I still manage to realise minor tweaks. My source is still https://www.w3schools.com/html/
WordPress Theme 2020 | Twenty Twenty thema voor WP websites.