About Judith den Hollander, fine art photographer, image editor, retoucher, printmaker and owner of Studio JDH.
I was born and raised in Haarlem and currently live and work in The Netherlands, Belgium and Sweden.

It was in the early nineties that I developed an interest in photography. After several SE-Asia travels and taking travel snapshots with 2 point-and-shoot cameras (one with b/w film and the other with colour film), I became serious with photography and cameras. In 1999 I went back to school. My studies were respectively at 'Fotovakschool', 'Stedelijke Academie Schone Kunsten' (Fine Art photography degree) and 'Syntra Vakfotografie'. In 2005 I founded Studio JDH and in 2013 I turned fully professional with photography. My interest and expertise is in fine art portraits and archival prints. I also document special festive days in people's life.
Met 3 opleidingen, cursussen, masterclasses en zelfstudies (een levenlang bijblijven met nieuwe technieken, trends etc.) heb ik mij breed verdiept in de fotografie. Van fine art fotografie, analoge techniek, oude print procédés, ambachtelijke zwart-wit bariet- en kleurafdrukken, fotocollectie beheer, fotokunst verzamelen tot digitale vakfotografie in de disciplines Product/Publiciteit, Architectuur/Interieur, Landschap/Natuur, Autonoom project, Sociale reportage, Bedrijfsmatige fotografie en Portret. Vervolgens Portret en locatie belichting, high-end Retouching, Fine Art Printmaking en Photoshop gevorderd.
Alle soorten licht en schaduw fascineren en inspireren mij. Dat ik mensen mag portretteren blijft keer op keer boeiend. Samen fotografie beleven en eigenheid en zelfexpressie vormgeven in een portret daar ligt mijn hart. Ik werk met zowel particulieren, ondernemers als organisaties in Nederland en België.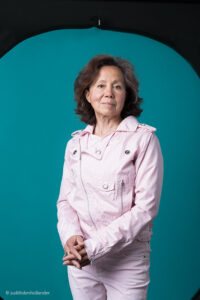 After studying Photo Art at the Academy of Fine Arts (photography art degree – laureate 2007), the digital era began. I explored digital photography through 'Vakopleiding Fotografie' and subsequently mastered Photoshop, Portrait and Location Lighting and Fine Art Printmaking. I am now specialised in on-location and in-studio (private and corporate) portraiture. To stay sharp and creative I also do product photography and personal photo projects. For 1 project I happily re-use my special Rolleiflex 2.8A TLR.
Before I scaled up my photography, I was a Media, Communication and Information professional. 1 day a week I still help small businesses and creatives building their brands, strengthening online presentation and communication. I customise WordPress Themes, write SEO copy and enhance websites with images and even a simple short video clip.
I aim to deliver high quality work, tribute to critical awareness to photography and share the love for photography. I am committed to providing photographs that are cherished, worth printing and displaying.
Judith den Hollander – fotografie | Portretten (People and portraits)
Judith den Hollander – fotografie | Persoonlijk werk (Autonomous and art, personal projects)
Contact met JDH | fotograaf in Maastricht en Haarlem.
20220714