About Judith den Hollander, fine art photographer, image editor, retoucher, printmaker and owner of Studio JDH.

I was born in Haarlem and currently live and work in the Netherlands, Belgium, and Sweden. I began my photography journey in the early nineties during my travels in Southeast Asia. In 1999, I decided to learn more about photography. I earned a Fine Art photography degree from 'Stedelijke Academie Schone Kunsten' and completed 'Syntra Vakfotografie.' In 2005, I started Studio JDH and became a full-time professional photographer by 2013. I specialize in creating beautiful portraits, making lasting prints, and capturing important life moments.
Over Mij:
Ik ben een ervaren portretfotograaf met een unieke artistieke stijl;
Ik creëer graag beelden die een verhaal vertellen: van flatteuze en esthetische portretten tot eenvoudige of bijzondere momenten, inclusief het beheersen van licht en schaduw;
Ik bied creatieve oplossingen, persoonlijke consultaties en advies aan zowel particulieren als bedrijven.
Mijn Diensten:
Fotografie op diverse locaties, zowel in mijn eigen studio als op locatie (in-studio | in-home | in-company | on-location);
Gebruik van geavanceerde apparatuur en vakkennis om uw visie of wensen te verwezenlijken;
Tarieven op maat, afgestemd op uw wensen en eisen, met een focus op uitstekende klantenservice.
Mijn Specialiteiten:
(Fine art) Studioportretten en fotoreportages;
Retoucheringsopties en beeldbewerking;
Afdrukken en (acrylglas) vergrotingen, met of zonder lijst.
Contacteer mij voor een offerte.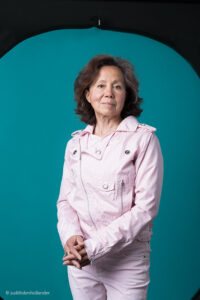 = Ik ben serieus gefascineerd door licht, schaduw en portretfotografie. Het boeit me om mensen te portretteren en hun eigenheid en zelfexpressie vast te leggen in aantrekkelijk beeld dat er toe doet, inclusief de kunst van het printen. =
Mijn fotografische kennis heb ik verbreed door middel van drie opleidingen, cursussen, masterclasses en voortdurende zelfstudie. Mijn expertise omvat een breed scala aan disciplines, waaronder fine art, analoge technieken, oude printprocédés, ambachtelijke zwart-wit- en kleurafdrukken, fotocollectiebeheer, digitale vakfotografie (Product/Publiciteit, Architectuur/Interieur, Landschap/Natuur, Autonoom project, Sociale reportage, Bedrijfsmatige fotografie en Portret), belichtingstechnieken, high-end retoucheren en fine art printmaking."
After earning my photography art degree at the Academy of Fine Arts in 2007, I extended my skills as the digital era began. I explored digital photography and products through 'Vakopleiding Fotografie' and subsequently mastered Photoshop, Portrait and Location Lighting, and Fine Art Printmaking. Today, I specialize in on-location and in-studio portraiture, serving both private and corporate clients. I also enjoy exploring product photography and personal projects to stay creative. And for a special project, I happily use my reliable Rolleiflex 2.8A TLR camera.
Before expanding my photography career, I worked in Media, Communication, and Information. I now spend one day a week assisting small businesses and creatives in brand building, improving online presence, and communication. This includes customizing WordPress Themes, crafting SEO content, and enhancing websites with multimedia.
I aim to deliver high quality work, tribute to critical awareness to photography and share the love for photography. I am committed to providing photographs that are cherished, worth printing and displaying.
Judith den Hollander – fotografie | Portretten (People and portraits)
Judith den Hollander – fotografie | Persoonlijk werk (Autonomous and art, personal projects)
Contact met JDH | fotograaf in Maastricht en Haarlem.
20230903