Your commissioned private portrait printed beautifully on premium photo paper. 

This page is a summary of my portrait and print service in English. Voor Nederlands zie o.a. Informatie Particulieren en Printmaker.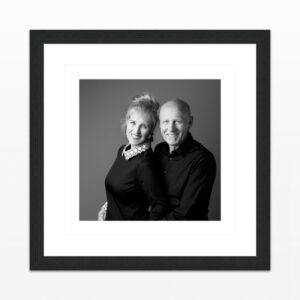 A commissioned portrait has a purpose and value.
It is meant to be seen, cherished and to last. It may become a family heirloom. Hence the need for and importance of a quality printed portrait.
Archival photo prints.
A print on photo paper can be delivered in small, medium and large format. The choice of paper often depends on the style and purpose of the portrait. Will it be in colour or black-and-white? How small or how big must it be printed? Will it be hung on the wall or put on a desk?
All archival photo papers are made to resist color fading and to last for a long time.
Print protection.
A print is less vulnerable when mounted and behind glass. I recommend a print be mounted on Aluminium Dibond. Some papers can have a protective lamination as an option. (Acrylic) glass however is more resistant to chemical change in time and preserves best.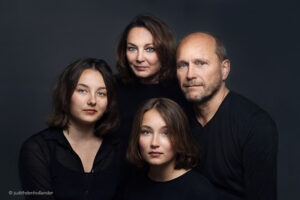 Print presentation, Wall art.
Is the print meant to be presented as photo art on a wall?
Choose between a classic presentation or a modern one.
A classic portrait is beautiful in a solid wood frame with a passepartout behind glass (see example on top). A print under acrylic glass (glossy or matte, with or without a frame) is a modern presentation.
Folio box.
If we did a photo shoot and you wish to purchase several prints, a light-tight folio box is an excellent choice to preserve mounted prints.
Photo book.
Prints in a book are also archival. A book can be a budget solution or a luxury edition gift.
I do layout and make own custom templates in Indesign.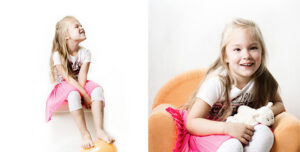 Demo of archival paper and presentation samples
You want to see and feel paper quality? After a portrait session there is opportunity to demo and discuss the samples.
Choose your portrait session : in-home, in-studio or on-location? Book me for an individual portrait, a double portrait or a small group/Family.
Portrait for private use session.
My 'Privé Portret Print' portrait session includes all :
Print (A4), first consultation (goals and preparation), photography with expert light setting, paper samples demonstration after photo session, photo pre selection, photo proofing, end selection and second consultation, professional manual image editing and retouch, proof print, quality check/approval, final print, small jpg for online sharing, shipping costs and VAT.
With possibility to order a different size print, extra prints, additional mounting, lamination or good quality glass and a frame.
Fotografie Particulier
Portrait for commercial use session.
Corporate portraits
Professional printmaking.
That is image editing with skills, proper software and a calibrated monitor as well as working with paper/print profiles. I produce a high resolution non compressed file in the best colour space. I do not print myself but outsource to professional photo labs that offer specialised services and deliver consistent quality. Studio JDH works with 4 top photo labs and selects per print order the best one for the job.
From analogue photo art to (digital) printmaking.
I used to make photos with a camera that worked with film : colour, black-and-white or diafilm. I also developed film rolls in a darkroom and learned film processing and printmaking : unique black-and-white Baryta prints as well as Colour prints and even Cyanotype and a Salt print. Then I went digital.
Now in this digital era with image ease and overload (smartphone burst mode etc.), I am more critical to photography and mass digital files on smartphones and devices. Therefore I re-focus on purposeful and quality printing.

Classical Portraiture in Black and White
Contemporary Portrait | Eigentijds portret
Studio JDH | Contact with a photographer that is specialised in fine art photography and prints.
20201220