By Judith den Hollander, specialised in fine art portraits and archival prints. I do in-home photo sessions and deliver your portrait/s in print on premium paper (small, medium or large size) mounted on dibond and framed. A beautiful wall print to display and enjoy. Book me for an individual portrait, with 2 persons (or 1 sitter and 1 pet) or a small group (family, friends 4-5 persons). Be comfortable in your own home and familiar environment and have a relaxed photo session. Photos in your living room, garden, kitchen, studio or office could also be an option. I also offer in-company and in-studio sessions.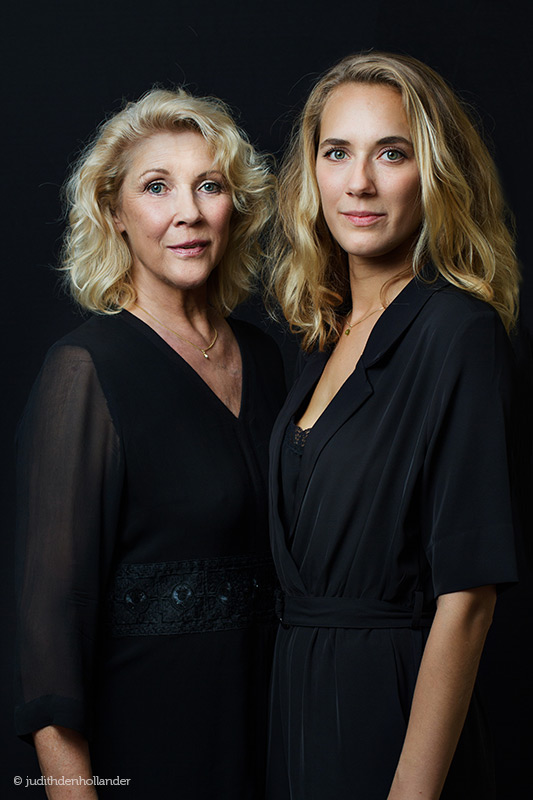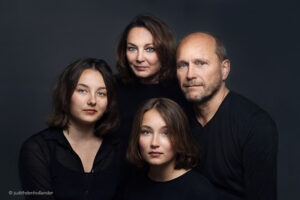 In-home photo session
With my mobile studio and experience I am able to provide a professional job outside my photo-studio. I am quick and comfortable to set up a compact portable studio. Some square metres would suffice. Close to a window is also perfect. Book your portrait session tailor-made. With a neutral background or a portrait of you in your living room, kitchen, studio, office or garden.

Portrait in print on premium archival photo paper
Choose your paper, paper size and presentation. After a portrait session there is opportunity to demo and discuss the samples and possibilities. You will be able to see and feel paper quality.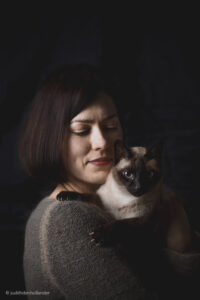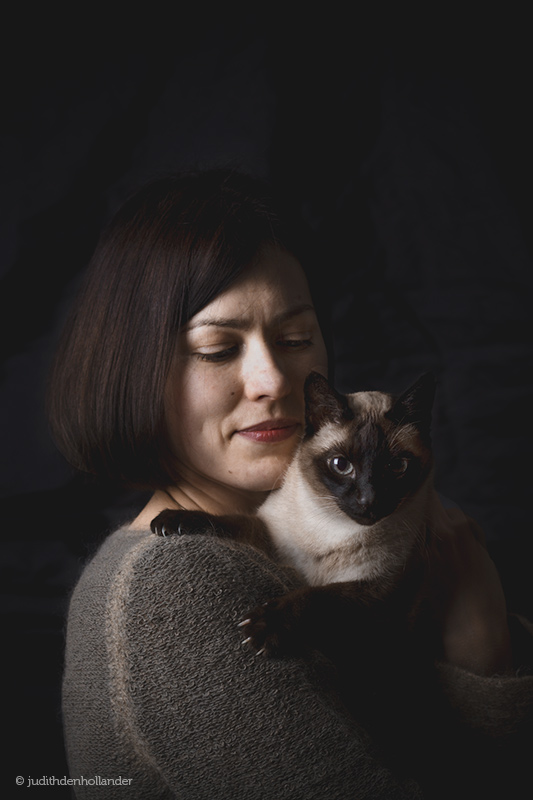 Print presentation, Wall art.
Is the print meant to be presented as photo art on a wall?
Choose between a classic presentation or a modern one.
A classic portrait is beautiful in a solid wood frame with a passepartout behind glass (see example on top). A print under acrylic glass (glossy or matte, with or without a frame) is a modern presentation.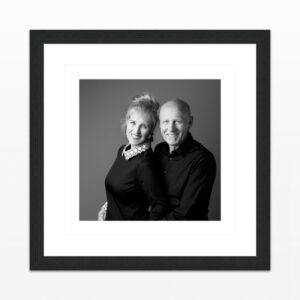 Folio box.
If we did a photo shoot and you wish to purchase several prints, a light-tight folio box is an excellent choice to preserve mounted prints.
Photo book.
Prints in a book are also archival. A book can be a luxury edition gift or a budget solution. I do layout and make own custom templates in Indesign.
Portrait for private use session.
My 'Privé Portret Print' portrait session includes all :
Print, first consultation (goals and preparation with styling tips), photography with expert light setting, paper samples demonstration, photo pre selection, photo proofing, end selection and second consultation, professional manual image editing and retouch, proof print, quality check/approval, final print, small jpg for online sharing, shipping costs and VAT.
With possibility to order a large size print, extra prints, additional mounting, lamination or good quality glass and a frame.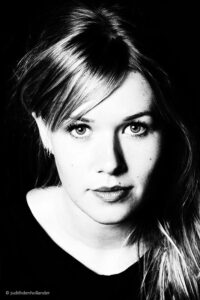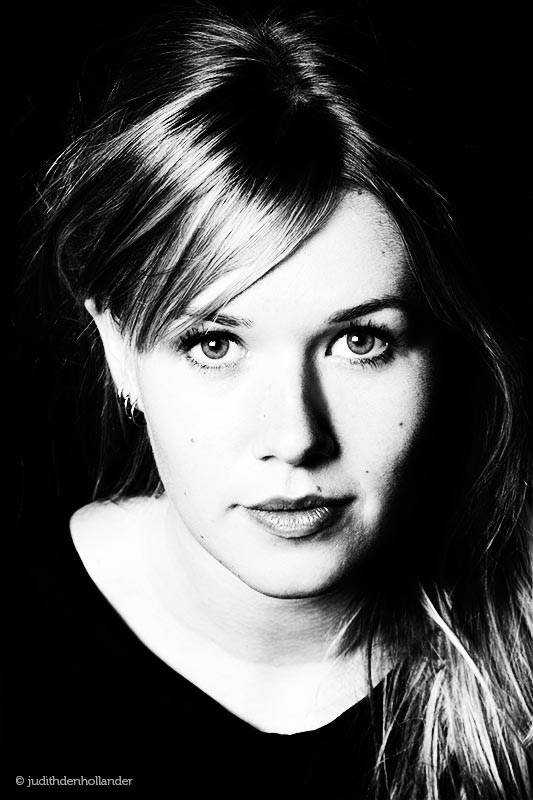 Professional printmaking.
That is image editing with skills, proper software and a calibrated monitor as well as working with paper/print profiles. I produce a high resolution non compressed file in the best colour space. I do not print myself but outsource to professional photo labs that offer specialised services and deliver consistent quality. Studio JDH works with 4 top photo labs and selects per print order the best one for the job.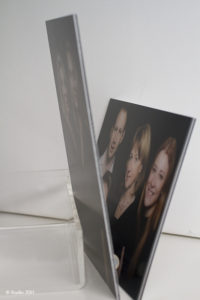 From analogue photo art to (digital) printmaking.
I used to make photos with a camera that worked with film : colour, black-and-white or diafilm. At the Art Academy I also developed my own film rolls in a darkroom and learned film processing and printmaking : unique black-and-white Baryta prints as well as Colour prints and even Cyanotype and a Salt print. Then I went digital.
Now in this digital era with image ease and overload (smartphone burst mode etc.), I am more critical to photography and mass jpg files on smartphones and devices. Therefore I re-focus on purposeful and quality printing.

Klassiek Portret | (Classical Portraiture)
This website features portraits of real life people without camera, posing or acting experience. There are no professional models on this site. Almost everybody here was photographed with professional gear in a professional setting for the very first time. I encourage people to relax in front of the camera, overcome shyness and hesitation and give opportunity to shine.
Creative Photo shoots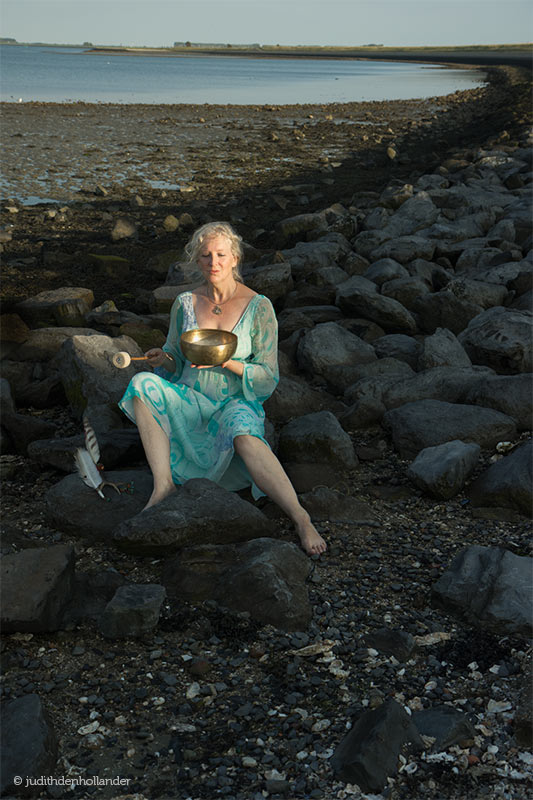 Corporate Portraits, Headshots | Page in English
Portretten | Portraits | Portfolio
Contact Studio JDH | Judith den Hollander
20230223