About Judith den Hollander. Born and raised in Haarlem. Lives and works in The Netherlands, Belgium and Sweden. Loves Art, Nature, Animals and People that care. Education: 1999-2000 Fotovakschool (Photography), 2000-2007 – Stedelijke Academie Schone Kunsten (Fine Art photography), 2013-2017 Vakopleiding Fotografie – Syntra (Portrait, Product/Commercial, Architecture/Interior, Landscape/Nature, Autonomous project, Documentary and Industrial/Corporate photography). She is a member of Dutch Photographers (DuPho).
Via (zelf)studie heb ik mij breed verdiept in de fotografie. Van fine art fotografie, analoge techniek, oude print procédés, ambachtelijke bariet- en kleurafdrukken, fotocollectie beheer, fotokunst (verzamelen) tot digitale vakfotografie in de disciplines Portret, Product/Publiciteit, Architectuur/Interieur, Landschap/Natuur, Autonoom project, Sociale reportage en Bedrijfsmatige fotografie. Ik werk met daglicht, kunstlicht, gemend licht en flitslicht. Licht en schaduw fascineren en inspireren me. Ik hou zowel van ingetogen als van uitbundig en verscheidenheid. Via de camera kijk ik steeds met nieuwe belangstelling naar het gewone en het ongewone. Dat ik mensen mag portretteren blijft keer op keer boeiend. Samen fotografie beleven en eigenheid en zelfexpressie vormgeven in een portret daar ligt mijn hart.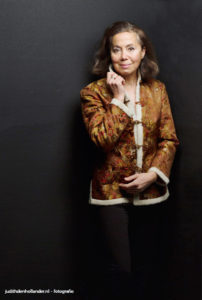 I am a Media, Communication and Information professional and photographer. I studied -analogue- photography at Fotovakschool, photo art at the Academy of Fine Arts (photo art degree – laureate 2007) and commercial, digital photography at Syntra. My key photography categories are 'People and Portrait', and 'Autonomous and Art'.
1 day a week I help small businesses and creatives with online content creation and presentation on their WordPress websites. I customise WordPress Themes and write SEO copy. After many years of providing full time online media services, I scaled down my webdesign and scaled up my photography. Because I love to photograph people and want to show and celebrate their beauty, strength and uniqueness, also in an extraordinary setting and style. Of course I'm keen to combine website enhancement with website photography and also short video clips.
View Judith den Hollander's profile
Judith den Hollander – fotografie | Portretten (People and portraits)
Judith den Hollander – fotografie | Persoonlijk werk (Autonomous and art)