A real revival to stay? Maybe. Yesterday, on the Dutch news (broadcast on 20221120) an item about the interest of young people for slow photography and own signature style prints. I love it.

"Analoge fotografie is helemaal terug, vooral de jongere generatie is ermee bezig." "Kodak wil de productie nu weer opschroeven. Op Twitter meldde het Amerikaanse bedrijf in oktober dat het de afgelopen anderhalf jaar 300 mensen heeft aangenomen om weer meer rolletjes van de band te laten rollen, en dat er nog meer personeel wordt gezocht."

Here's a link to a NOS online article for those that read Dutch : https://nos.nl/artikel/2453184-lege-schappen-en-hoge-prijzen-het-fotorolletje-is-niet-aan-te-slepen.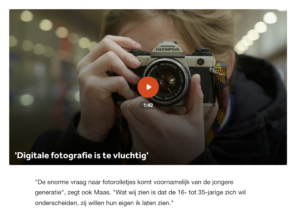 Here's a link to my web page about (analogue) Fine Art Prints : https://judithdenhollander.nl/fine-art-prints/
More further reading film photography? See my blog on https://studiojdhblogposts.wordpress.com/
https://studiojdhblogposts.wordpress.com/?s=analogue